Ticket Redemption 101: Benefits of a Self-Service Kiosk
By CASINOMONEY - November 22, 2019
If you've been in the Gaming Industry for any amount of time, the phrase self-service kiosk isn't foreign to you. Ticket Redemption is something that just comes naturally to you. Pay Out, Cash Out, Redeem for Value.
Close your eyes and if you concentrate hard enough, you can hear the whirring of the machines now. Some of you don't have to close your eyes, the slot machines are downstairs, or you might just be standing right in front of one now, as you scan this article on your cell phone. Yeah, you know when to hold 'em.
The Glory SK-500 has been a sight in many a casino and has performed admirably when it comes to ticket redemption. You might say that this was the one to beat. Glory has remarkable chips, after-all. We must admit, they put together a good product.
CASINOMONEY sells the Glory SK-500 and we will sell the SK-100 later next year. The point is, there is a sort of King of the Hill, and Glory is somewhere near the top, if not right there, in the chair, petting the dragon. Until now.
Now, you want the machine to be smaller - the Dashboard to be more substantial. You'd like Check Cashing Services & Cash Advance Services. Modern Fintech to drive home the apps and intuitive UI.
The ring of the casino bell or the ticking sound of the roulette makes a perfect segway. You've gotten accustomed to Tribes, and connections. This guy who you have been working with has been your go-to for more than a decade.
Two decades. Raise your hand if it has been 3!
Or perhaps, this is the first time you are ever hearing those string of words, and you're wondering, wait for a second, what exactly is a self-service kiosk, anyway?
No matter where you fall on that spectrum, we here at CASINOMONEY are here to give you the introductory guide to ticket redemption kiosks you've been dying for.
A ticket redemption machine provides your patrons with an easy way to withdraw cash while at your establishment, which, in turn, provides them with an exceptional experience and the brief-and-seamless interruption they're looking for so they can get back to their games in a snap.
Why does a ticket redemption kiosk work so well in this industry?
Typically, when people visit a casino, they're there to have the best time possible—but that doesn't always mean they're carrying large amounts of cash on them when they enter the building or that they won't run out of money during a game.
Utilizing a state-of-the-art, intuitive system like our CM-2020 can help to provide your customers with the outstanding, seamless, and quick transaction they're looking for, which allows them to get back to the game as quickly as possible.
How a Redemption Kiosk Will Help Increase Spend in Your Establishment
So, if you've read all this and you're thinking, sure, that sounds great in theory, but how exactly does a redemption kiosk like the CM-2020 help to truly maximize the amount of money my patrons are spending? That's exactly what we're here to answer.
In a recent study of consumer behavior, it was noted that casino ATMS represented about 80 percent of kiosk transactions—but is simply having an ATM kiosk enough? In most cases, no. Utilizing a modern, aesthetic, and maximum-capacity kiosk like the CM-2020 checks problems off your list like that.
How? Because a CASINOMONEY CM-2020 Ticket Redemption Kiosk has a small footprint (it can be placed essentially anywhere, maximizing its exposure), it has a captivating, inviting appearance (which attracts customers straight-away). It's made with intuitive, easy-to-use processes in mind (which means it's a low hassle and makes the user experience a total breeze).
Ticket redemption kiosks like the CM-2020 provide proprietor and owners like you with a captive audience, making the gaming experience awesome and the transaction process easier than ever (and hence, maximizing your profits at every turn).
The Top Benefits of a Ticket Redemption Kiosk
Now that you have a better understanding of what a ticket redemption kiosk does, how it can improve your business, and why you should consider them, we're going to dive even deeper into our CM-2020 ticket redemption kiosk. Keep reading for the top-of-the-line benefits that a self-serving kiosk can offer you!
The CM-2020 Frees Up Time, Space, People, and More
Implementing an easy-to-use, state-of-the-art system like the CM-2020 does more than just keep your patrons in your establishment for longer, it also improves their overall experience by freeing up your time, your space, and your employees. With a one-stop, self-service shop for their withdrawal needs, your employees can focus on their jobs, you can free up physical space within your casino, and you don't have to spend time acting as a teller.
The CM-2020 Is Easy-to-Use and Hassle-Free
Not only is the actual program easy to use, but the design of our self-service kiosk makes it intuitive for patrons, as well. With easy-to-find and easy-to-use insertion and dispense points, ideal height, and large, bright touch screen programming, it's never been easier to seamless transact money quickly.
The CM-2020 Boosts Profits and Traffic
When a patron at your establishment runs out of cash, the last thing you want is to send them away. With a self-service kiosk, you're able to keep your patrons in-house while they transact the cash, they need to continue enjoying their experience.
Not only are you boosting your sales when this happens, but you're also improving your customer's experience, which is undoubtedly going to keep them coming back for more. Further, if a patron knows that they're able to withdraw money within your establishment, they're more likely to visit your casino than another that cannot provide them with the same convenience.
The CM-2020 Is Appealing and Attracting, Which Draws People In
A self-service kiosk—especially one that's state-of-the-art and crafted with aesthetic in mind—is undoubtedly going to draw people in. With their large touchable screens, intuitive directions, bright lights, and sleek exteriors, they're basically a beacon for casino-goers searching for more money!
Ready to learn more about how the CASINOMONEY CM-2020 can help you maximize your patron's spend through ticket redemption kiosks? We thought so! Check out our website for more information or click here to download the free CASINOMONEY brochure that's packed with insight, info, and all the need-to-know details about how you can help your patrons stay in the game!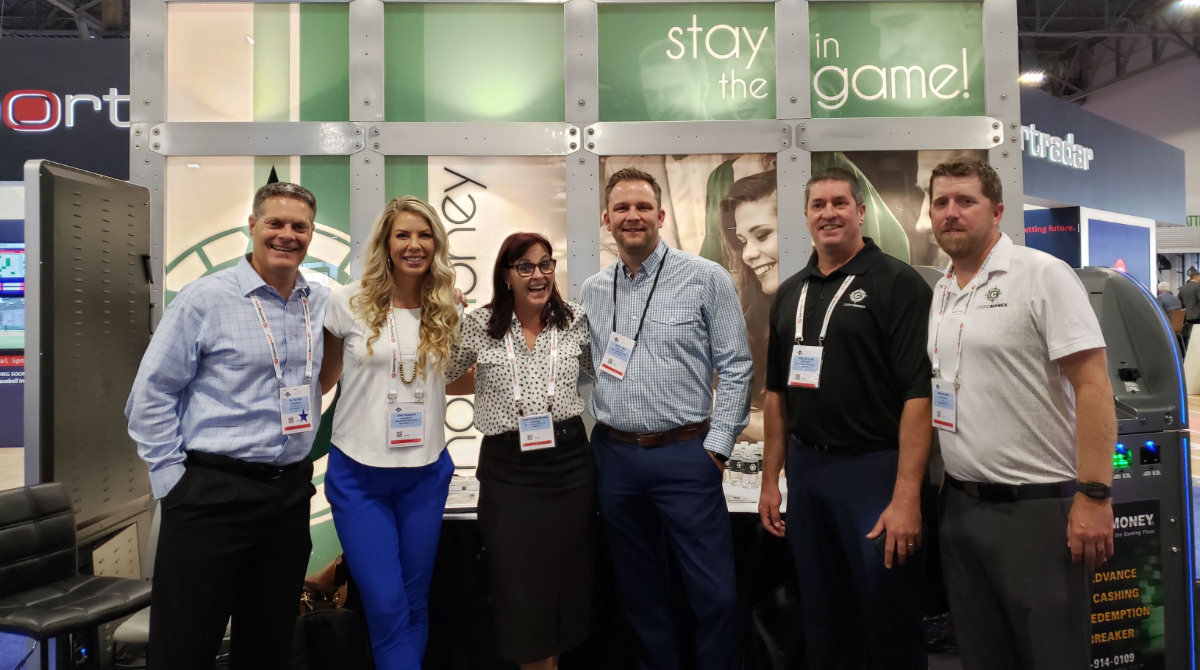 ADVANCING THE GAMING INDUSTRY FORWARD
The CASINOMONEY Team at G2E 2019
CASINOMONEY®, a division of MOBILEMONEY®, is a full-service provider of innovative cash solutions for the gaming industry. Since 1996, MOBILEMONEY® has been providing customized cash management and ATM solutions. Together, CASINOMONEY® and MOBILEMONEY® provide cutting-edge technology and financial services that will improve your cage operations and cashier performance, while increasing cash on the gaming floor.